Contracts
Is Contract Technology Over-Hyped?
Gartner's latest hype cycle for legal shows CLM rising up the slope of enlightenment and contract analytics plunging down the trough of disillusionment
---
Gartner just updated its Hype Cycle for Legal and Compliance, so we decided to take a closer look at where contract technologies stand, according to Gartner. There are two contract-related entries: Contract Lifecycle Management (CLM) and Advanced Contract Analytics. Both are moving steadily forward towards adoption-readiness. But neither has transitioned to a new hype cycle status compared to the 2021 analysis.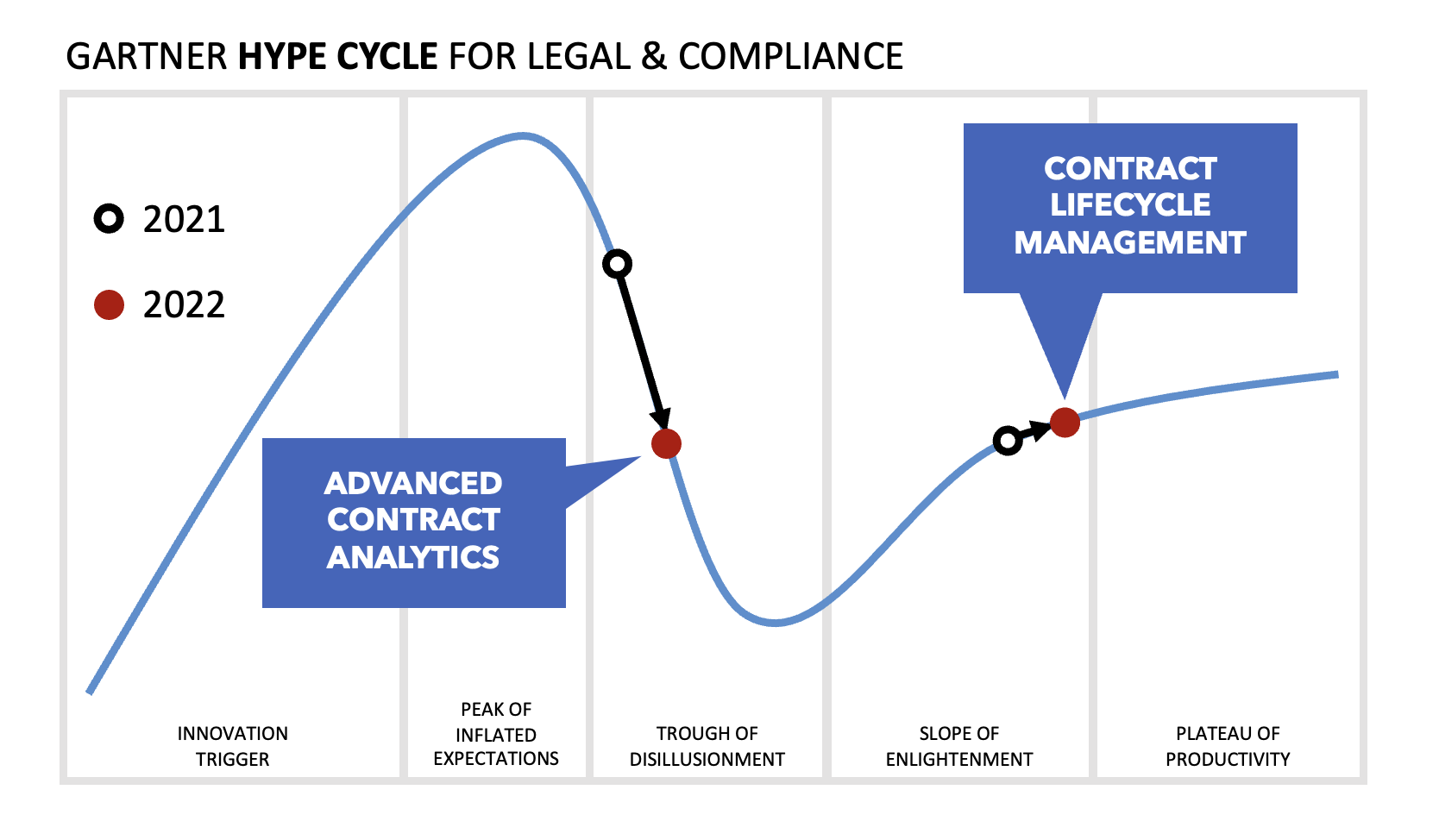 Catylex plotted the movement of each technology relative to last year, shown above. CLM has moved further up the "slope of enlightenment" and seems close to the "plateau of productivity", although this is still expressed as a 2-5 year time frame by Gartner. Advanced contract analytics is plunging rapidly down into the "trough of disillusionment" and expectations will continue to fall in the near term. Nonetheless, contract analytics has a similar 2-5 year time frame for reaching the plateau of productivity.
The analytics plunge is to be expected. There has indeed been much hype over contract AI and analytics, leading to rather frothy expectations. For many, reality did not live up to the hype, and disillusionment has naturally followed.
There is, however, reason to be optimistic. Catylex, for one, has done the hard work of building contract analytics that works in the real world, and works out-of-the-box. But if you've heard similar promises in the past, how do you know if we're any different?
Buyers of contract analytics should challenge any vendor to prove that their product can deliver, and should verify the results for themselves. Run some tests on a (ideally large) sample of documents and do it with very short turnaround times. This will help you to verify that software is doing the analysis, not people.
Armed with proof of performance, there are many good reasons to start using the technology to unlock the value buried inside your portfolio of contractual documents. Indeed, it is by using advanced contract analytics and CLM together that the true potential of contract automation will be achieved.